2020 Year in Review & 2021 Predictions
2020 Recap:
What a truly unprecedented year 2020 was! After a record start to the year COVID-19 struck and the effect on the local real estate market was profound. From the middle of March to the end of April the sale of homes, understandably, ground to a halt as we dealt with a province wide lockdown and adjusted as an industry and society to the new world of COVID. The real estate market began to show signs of a comeback as we approached late spring and by the time we hit the summer season the market had completely rebounded. From the beginning of the third quarter to the end of 2020 record after record was set. There were a number of factors driving the unprecedented growth but central was residents of Toronto looking for an escape from the city. Other factors included workplace flexibility, historically low interest rates, and many new buyers discovering our region to name a few. When we tally up the year-end results it is truly astounding! Average sale price was up a whopping +28% across our region while volume sales (number of homes sold) was up 53% over the previous year. It has been an incredible market for Sellers but the lack of inventory and run-away prices have been demoralizing for buyers attempting to enter the market.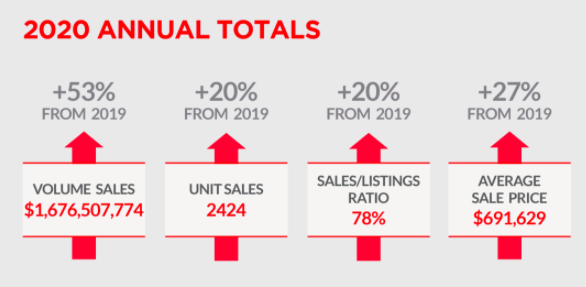 2021 Outlook:
Many of our clients have been asking us about our thoughts on what 2021 will bring. Although there are many unknowns surrounding our economy and the pandemic, one thing that we can almost be certain of is that the supply of homes available for sale in our region will continue to be well short of buyer demand. This lack of supply will continue to drive prices up, which is just simple economics. Will people that came to our region to escape the city begin to flock back to the city once COVID is past us? Maybe, but we don't see this happening until 2022 if at all. Will high prices drive buyers to more affordably priced areas? Maybe. The bottom line is people want to be here and for good reason. The amenities, the recreational activities, the four seasons lifestyle. Our area has a truly unique value proposition and at the end of the day the Toronto dollar still goes a long way here. In summary, we are bracing ourselves for another record breaking real estate year in our region. If you are a Seller, we are expecting another year of conditions that favour Sellers dramatically.